Scenario
---
It allows you to create a sequence of actions timed operated by the user or any other event.
GHOST
This component's sample is made by using GHOST protocol.
Please refer to "Gateways / Protocols" guide in order to get further info.
Virtual Feedback: please refer to the "KNX protocol" guide;
Run scenery on startup: when the project is uploaded to the server and when EVE is run;
Loop: it allows to keep the scenario's actions going on loop when running;
Trigger: this is the trigger component (not mandatory) of the scenario (Switch or Timer)
Start when Off: the scenario is run when the trigger is off;
Reverse values: (checkbox) it will reverse the value of the triggered component;
Scenery's actions: this is the list of actions that the scenario will execute when activated:
Category: component's category;
Name: component's title;
Drop down: select the command choice;
Delete: select bin to remove the component from scenario;
Add a delay: it allows to add delay timers on the scenario's actions list;
User Data: empty field used to specify further info;
Note. Scenario configuration can be easily carried out by dragging and dropping all the necessary components from "My components" area to Trigger drop-down menu and Actions box.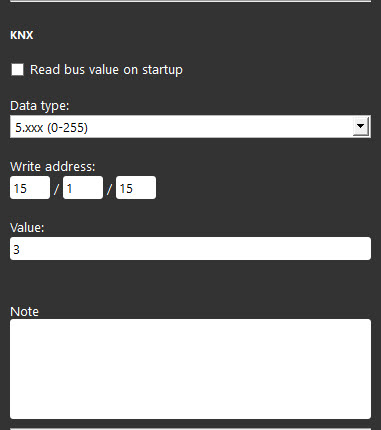 KNX
You can also configure scenario on ETS software and simply enter its Write address on Scenario component's properties. This is the case of a Scenario component configured with KNX gateway.
Here is a component's properties sample made by using KNX gateway.
Read bus value on startup: please refer to "KNX protocol" guide;
EVE Remote Plus
---
Three different view mode possibilities: "CLASSIC", "MODAL" and "HIDDEN". Learn more about the component's view modes.
CLASSIC VIEW MODE
This is just one of the visual result possibilities of the component on the EVE Remote (Map Style).
Icons can be customized depending on your necessities from symbol to color and dimension.
In this case, we can see the default icon layout:
Any Scenario ⇒ Scenario icon

Scenario "All lights On" (customizable icon)